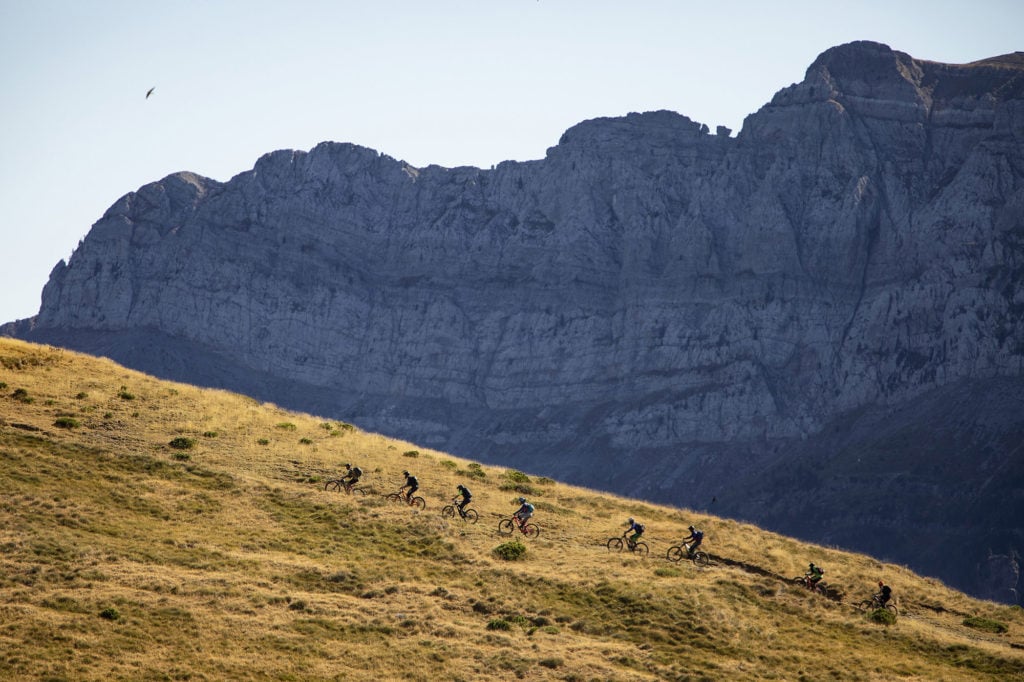 Trans-Nomad is back, after a year to forget.
And we return from October 5th to 10th with all the desire to make an event with more adventure, more comfort and more security.
This is how this 5th edition of Trans-Nomad will be, in which we tell you all the news:
We extended 1 more race and event day, going from 4 to 5 race days and from 5 to 6 event days
For safety and comfort reasons we've decided to host the event in a Hotel *** at our disposal.
Hotel Benasque Spa (4 nights) will be our base camp in Benasque and Hotel Bielsa (2 nights) in Bielsa
Includes 6 nights of accommodation in half board from Tuesday afternoon to Monday 11th after breakfast
1-2 transfers in vans or buses each day of the race.
We include the e-bike class as a novelty and we maintain the male and female class.
Together with Orbea, we're committed to certifying the safe event as Ride Safe: safety and hygienic sanitary measures.
We increased race safety and health controls for COVID-19.
We'll ride the best trails of the past editions of Trans-Nomad in Valle de Benasque and Valle de Bielsa
We'll include unpublished stages (1-2) each race day.
We have a staff of 15 bikepatrols, 2 doctors, a nursing team with care in the race and base camp.
Individual feeding packs with hot and cold food.
Media team photographer and videomaker of the event.
These are the main news regarding the event. As for the stages, what are you going to find? Stages of between 30 and 50 km and 1200 and 1800 meters. The first stage will be in Puro Pirineo- Valle de Benasque, we'll do a transer at the beginning of the day and we'll ascend to 2700 meters to do one of our mythical high mountain specials, but with a new, unpublished variant. We will continue with a very long unpublished special from elevation 2100 that will lead us to our hotel in Benasque. On the second day we'll cross from Benasque to Bielsa, doing two transfers and one of our mythical and most famous Trans-Nomad stages, but this time with a new high mountain special that will take us to Bielsa from 1900 m. The third day will be a smoother stage in Bielsa, with a short transfer and ascending to one of our favorite peaks, but going down to the valley through an unprecedented section and another that hasn't been done since the mythical first edition. On the fourth day, we'll make a transfer to  2100 meter and we'll cross two valleys until we reach the Benasque Valley, it will be the longest and most demanding stage, but without a doubt one of the most beautiful and high mountain "made in Trans-Nomad" . The last day will be a final gift. With a transfer to 2000 m we'll make a Superenduro by some of the longest and mythical descents of Puro Pirineo to reach our hotel in Benasque.
In terms of security, we're all aware of the difficult situation we're going through caused by COVID-19 and hopefully in October the situation will be much better globally. However we're going to put all the means and we're going to demand all the safety measures from riders (distancing, hand washing, etc.) to show that events like Trans-Nomad are Ride Safe events. Participants may be required to have PCR tests, COVID passports from national and international riders, depending at that time on how the health situation is in the community or country of origin. Antigens tests can also be done to access the event. This year more than ever the organization has a great responsibility and will be strict with the fulfillment of the hygienic sanitary measures so that the Ride Safe event is safe for riders, staff and destinations.
Finally, thank everyone who supports Trans-Nomad and makes this event possible. We have new naming thanks to Orbea that bets on Trans-Nomad as a benchmark mtb event in the Pyrenees. Orbea Rallon, Occam, Rise and Wild will fight together for the first time in the same event. Welcome!
We welcome and thank our German friends and Official Sponsor of Trans-Nomad from Dirtlej, who bet on Trans events like ours, but also other European ones. With their very comfortable Dirtsuits they make a rainy or muddy day comfortable on the bike. We'll also be able to test their range of shorts and t-shirt, also very comfortable, and for riding in summer from their Trailscout collection. Wilkommen!
Another new sponsor in Trans-Nomad, the Americans Industry Nine, authentic #1 in rims, premium quality "handmade" hubs for your bike. Pro's like Brandon Semenuk are ambassadors for the brand, which lands in Europe with great force and we thank them for setting Trans-Nomad as a reference event to show their range of high-end products. Welcome !!
And more sponsor news. This time we will have 226ers as the official energy supply for Trans-Nomad 2021. This Spanish brand is becoming a benchmark for food in endurance tests, both in cycling, triathlon, trail running and now they are also committed to mountain biking. Thanks and welcome!
And Fox, it is not necessary to introduce them, because they are already part of the Trans-Nomad family since the first edition. Thanks to Fox Europe for continuing to trust and support our Trans-Nomad event. Surely many of our participants will wear the new Fox 38 fork to test the high mountain trails.
We don't forget our destinations,  Puro Pirineo and Zona Zero who host and support the event for another year and who have opted for mountain biking as one more modality within the wide range of bicycle routes that each year attract more national and international public to know the routes. And special thanks to our Institutional Sponsor Huesca la Magia de la Bici, who once again supports our event to promote our Pyrenees of Huesca, as one of the best international destinations for cycling, in any of its modalities. Thanks friends!
And we don't forget the fun either, there will be a chill area with music in the hotels, to rest and relax after each stage. We'll include a picnic in the afternoon before dinner accompanied by a soft drink and a beer. We´ll do our prize giving ceremony and a raffle with Fox, Industry Nine, Dirtlej products and other sponsors among our participants.
A lot of news, more days of adventure, more comfort (maybe too much for some?) And of course a lot of security for this 5th edition of TransNomad that we've named #TNHighlights, the best trails in Trans-Nomad.
The price of registration is 1380 euros (VAT included), but if you register in the Early Bird period from April 1st to 15t, you have a 15% discount, and the final price of this adventure-trip in the Pyrenees is 1200 € (VAT included)
In this edition of Trans-Nomad you have to be Federated in cycling in your region or country of origin. Remember only the UCI cycling federation license is valid, not from other federations (mountain, triathlon, etc).
Participants from other countries outside of Spain must request authorization from their cycling federations, notifying their attendance at Trans-Nomad from October 5th to 10th. If you are not federated, you must add to the registration your day insurance that costs 50 euros for the 5 days of the race.
What are you waiting for to feel the freedom on your bike in the Pyrenees and register in Trans-Nomad? You deserve this adventure.